BOTOX ALTERNATIVE BY ZENA COSMETICS
The concept of micro-needling is based on the skin's natural ability to repair itself when it suffers physical damage. Micro-needling intentionally creates very superficial "micro injuries" to the outermost layer of the skin. So it  induces the healing process that includes new collagen production.
Micro-needling has been shown to reduce the visibility of acne scars, reduce open pores and fine lines; diminish hyper-pigmentation and improve skin tone and texture, resulting in smoother, firmer, younger looking skin.
When micro needling is combined with Botox alternative serum not only it improves the condition of the skin dramatically, but also relaxes the muscles giving similar result as Botox injections, but without side effects or "frozen" look.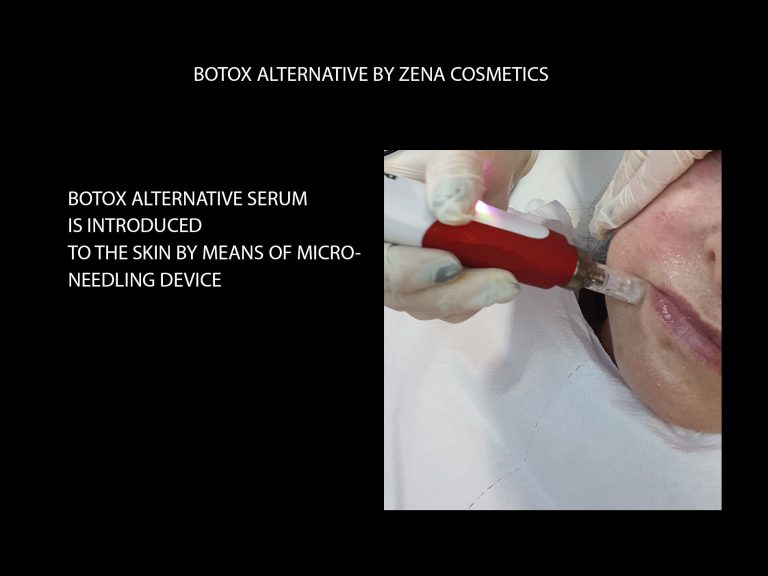 WHAT IS BOTOX ALTERNATIVE
Botox alternative by Zena Cosmetics is an innovative solution which allows to relax muscles and restore the dermis without resorting to injections of botulinum toxin. Thus, it enables to penetrate the deeper layers of skin in order to restore a healthy balance, significantly improving the attractive appearance of the skin. The effectiveness of Botox alternative serum is based on proper balance of neurotransmitter, signal, transport peptides and plant extracts. It brings about a stunning visible effect of eliminating static and dynamic wrinkles, launching the regeneration process, collagen stimulation, working extensively with skin's texture, colour, turgor and tone. Muscle relaxants are combined with signaling and remodeling peptides in order to obtain the effect of not only in relaxing muscles, but also in levelling out the wrinkles. The latter peptides inhibit the development of the Snare-SNAP complex, which affects the neurotransmitter acetylcholine responsible for muscle contraction. These peptides have a lifting effect, increase the proliferation of fibroblasts and the synthesis of collagen in the extracellular matrix.
GENTLY REDUCES MUSCLE CONTRACTIONS
RELAXES AND REDUCES DYNAMIC WRINKLES
HAS A BOTOX-LIKE EFFECT DUE TO THE PRESENCE OF BIOMIMETIC PEPTIDES
RESTORES DENSITY OF THE SKIN
INCREASES TONE AND ELASTICITY
HAS A LIFTING AND HYDRATING EFFECT
IMPROVES FACE CONTOUR, HAS MODELING ACTION
SUITABLE FOR ALL AGE GROUPS OVER 18 YEARS OLD
CAN BE APPLIED ALL OVER THE FACE
BEFORE APPLYING THE BOTOX ALTERNATIVE SERUM BY MICRO NEEDLING DEVICE THE THERAPIST CARRIES OUT SPECIFIC SKIN PREPARATION/FACIAL
FOR LONG TERM MAXIMUM EFFECT WE RECOMMEND THE COURSE OF 4 PROCEDURES CARRIED OUT BIWEEKLY. 
APPLY AFTER TREATMENT GEL AND ANY OTHER SERUM RECOMMENDED BY THE THERAPIST FOR THE FOLLOWING 2 DAYS.
SUNBLOCK WITH SPF 50 MUST BE APPLIED DURING THE FIRST POST-TREATMENT WEEK
APPLICATION OF MAKE-UP CAN BE RESUMED 2 DAYS AFTER PROCEDURE
ANY ACTIVE SKIN CARE PRODUCTS CAN BE RESUMED IN 5 TO 7 DAYS, WHEN ALL TRACES OF ERYTHEMA HAVE RESOLVED
AVOID SUN AND EXCESSIVE HEAT, SAUNA FOR 3 DAYS AFTER TREATMENT
NO FACIAL WAXING FOR 7 DAYS
AVOID FILLERS AND BOTOX INJECTIONS FOR 2 TO 4 WEEKS DEPENDING ON THE AREA
PRICES:
Botox Alternative facial 1 treatment                       110€
Botox Alternative facial   set of 6 treatments         550€