ALGAE PEEL BY ZENA COSMETICS
Algae peel is 100% natural, made from special type of algae sponge powder. It has micro needling affect without the use of needling device. Algae spicules have porous structure, which allows them to absorb the ingredients and carry them to the deepest layers of skin. The treatment works in conjunction with specific serums prescribed by practitioner to target individual needs. It works very well with Botox Alternative.
Skin consultation must be booked at least 5 days prior the first treatment! 
 Causes  microscopic controlled trauma and stimulation
Improves oxygen delivery system
Activates skin regeneration system
Improves blood circulation
Accelerates cell rejuvenation
Removes dead cells, tightens pores, soothes irritation
Reduces fine lines
Lightens hyperpigmentation and Melasma
Reduces post acne scars and improves stretch marks
Effects and results will depend on the level of peel recommended by practitioner and agreed with each individual. Levels of peel are:
Superficial peel (normal to dry skin) has an anti-aging effect, which activates blood circulation and improves overall skin condition. This type of peel causes slight reddening of the skin, which usually disappears in a day.
Medium peel is great for treating acne, stretch marks, fine lines. The skin will be pink to red for couple of days. The peeling of superficial layers will start approximately  three days later, the flaking of the skin will start soon after.
Deep peel is the strongest peel. It is great for reducing pigmentation, acne spots and scarring, stretch marks,  fine to medium lines. It will cause reddening of the skin for a few days. The skin will completely renew its upper layers, while it will crust and peel off.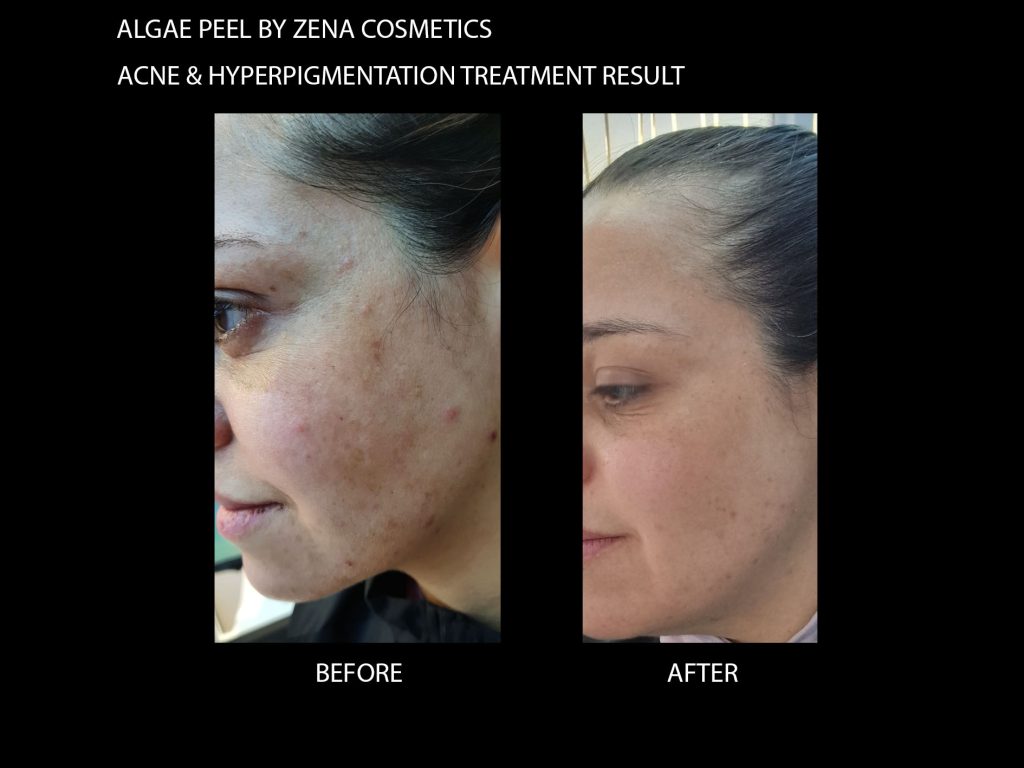 Zena Algae peeling treatment can be combined with different Zena serums targeting certain skin conditions.
Zena Scars, Stretch Marks & Rosacea serum gives amazing results improving the look of stretch marks, it can be applied on every part of the body.
Zena Botox alternative serum combined with Zena Algae peeling relaxes the muscles and  gives lifting effect.
Zena Elastin serum encourages elastin production in the dermis.
Zena 24k Gold Hyaluronic acid serum hydrates the skin and adds glowing look.
Zena Cosmetics offers a wide range of serums designed to provide outstanding results when combined with Algae peeling and/or micro needling therapy.
After care must be followed thoroughly . After Algae peel the skin will feel sensitive to touch, it will look pink/red and feel hot as the local skin temperature might rise up to 37 degree. There will be as sensation of needles on the skin for 24-30 hours.
The Algae peel is finished off with application of post treatment gel, it should not be washed off for 8 hours.
During the time of desquamation (peeling) the skin can only be washed with water, especially during the first 3 days after the treatment.
Hyaluronic acid serum and suncream should be the only products applied on the skin during the first three days. Sun cream SPF 50 should be applied every day for at least 10 days.
No heat or steam on the area for 10 days.
No other treatment can be performed on the area during desquamation. The Skin will be renewed during the next 3 weeks. The next Algae peel can be done after one month. It is not recommended to have more than 4 Algae peels during one year.
No self tanning products until skin peeling has resolved
Wear loose clothes for a few days after the treatment (body treatment)