Christmas nails ideas
The ideas for Christmas nails are endless, we could go on and on without stopping. But we know everyone is so busy at this time of the year, and have no time for reading long posts. So we will get straight to the point and share with you the main nail designs that conquered our hearts.
Foil design. Nail foil is becoming more and more popular. The idea and application is very simple. It is perfect for clients who might not like nail art per se, but would like to jazz up their nails a little bit.
The foil can be glossy and matt. Matt foil is used to create cracked or faded effect, it looks very original.
Glossy foil is used to give colourful and shiny effect. There were three different colour foils used in next example: purple, navy and holographic teal.
It can also be used to cover a full nail
We have an amazing range of colours in our nail bar, you can create works of art on your nails just by matching and mixing different shades.
Jumper nails. This design is very popular during winter months. It gives a warm and cosy feeling. Pastel colours are usually used for this look. The design is usually created with the colour that is a few shades lighter than the base one. To create a fluffy look a decorative sand can be used over the design.
This part can be skipped, if a person doesn't like the roughness of the material used.
Stripes. This element is also very simple, but effective. Sometimes, a line or two across a free edge or along the nail, is all you need to create your perfect manicure.
Liquid stones and nail gems. Liquid stones are a new craze that is conquering the nail salons, but as promised we won't go deep into it here. It deserves a separate post, and we will share it with you in the future. Just to give you an idea, liquid stones are created on your nails with a gel. It can be different shape or colour, it can have a design under it. It looks like a ring on your nail. It gives a very luxurious and extravagant look. This design is intricate and takes quite a lot of extra time. Nail gems are little diamonds that are used as an extra element for a design.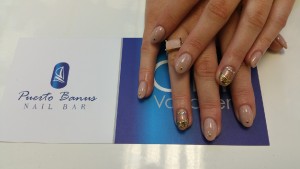 Bows, Christmas trees, Santa, snowflakes. These elements are very popular every year, as they are directly related to Christmas. These designs add fun to the nails and usually are in demand the last week before Christmas.