All that glitters…
Can anyone believe its middle of November already?! The temperature is so mild, it's hard to figure which season we are in. Weeks are flying one after another bringing us closer and closer to Christmas. Just before party season will take its full swing, we want to start sharing some great ideas for your festive manicures.
The main and most popular accent of party nails is, of course, glitter. So in this post we are going to share with you our favorite glitter nail polishes and gel polishes, which are available at our Puerto Banus Nail Bar. The choice is so wide, it varies from subtle shimmer to glaring chunky glitter. Some of them look amazing on their own as a full set, some are great for accent nails and some can be used for layering over the base colour.
---
OPI has beautiful chunky glitter gel polishes and matching nail polishes. The coverage is great, it looks rich, luxurious and can be easily worn on its own.
The first one is Baroque… but still shopping. It was released with Autumn 2015 – Venice collection. This polish has a metallic greenish gold base and different size glitters in it.
The next two were released with limited Christmas 2015 collection. Ce-less-tial is more has a pink base, it's girly and sweet. Super star status – silver and gold glitter.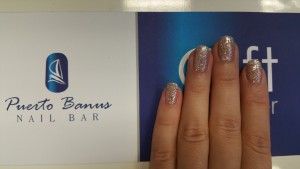 Next two were released with Christmas 2013 collection, and still are very popular. All sparkly and gold is a dark gold glitter. My favorite ornament – white gold glitter.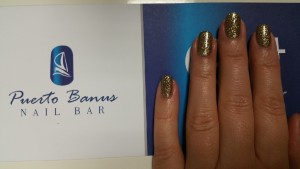 Which is witch and Rose of light by OPI, both have a clear base and are great for layering.
Below in the photo you can see Rose of light on its own on index and middle fingers. Ring and baby fingers have Tiramisu for two base polish.
The following is Which is witch on its own on three fingers, and baby finger has a dark red base polish.
---
CND have a nice range of different shade glitter polishes, it comes in Shellac and Vinylux.
Ruby ritz is classic Christmas red glitter.
Butterfly queen came with summer collection, but it looks great for party nails all year round.
Nordic lights is a purple base polish which has a mix of different colour glitters in it.
Glacial mist is a metallic icy blue glitter.
---
Last, but not least are glitters by Cuccio, which are available as nail polishes and gel polishes.
Gala – chunky navy glitter, perfect on its own or over a dark colour base.
Beam me up – subtle and smooth pink glitter.
Bean there done that is confetti multi fleck glitter, which is great for layering.
Big bang theory – black base polish with rainbow glitter.
Cuppa cuccio – bright gold glitter.
Los Angeles luscious – light nude brown with smooth gold glitter. Looks great on its own. In the photo below baby and ring fingers have a Tiramisu for two by OPI base.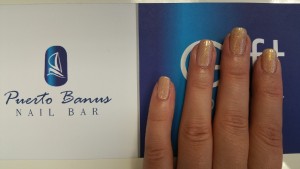 Love potion no.9 – baby pink chunky glitter.
Manhattan Mayhem – rich and glamorous red glitter.
Out of this world – silver glitter.