Pale pink has always been loved by clients, but its popularity has soared since last year. During summer months it was one of the most loved colours in our salon. But the change of the seasons doesn't seem to have influenced its demand.
Most nail product brands included variations of this shade in their new, fall and winter 2015, collections, which affirms, that it is an all year round colour. This shade gives a soft, gentle, clean look. It is very easily matched with any colour outfit. It suits all occasions and looks great even with the palest skin tones.
So we would love to introduce you the shades of this colour, which are available in our Puerto Banus Nail bar.
The first one is Naked naivete by CND. It was a part of Shellac (two week manicure) and Vinylux (one week polish) autumn, 2015 collection.
The next one is Winter glow by CND. It came out as a part of winter,2015 collection and is also available in Shellac and Vinylux. This colour is slightly pinker than Naked naivete. Both of these colours are opaque and have a good coverage.
---
The next one is Fair game by Cuccio. This colour is shimmery white with a pink iridescent hue. It is available in Cuccio Veneer gel polish and nail polish.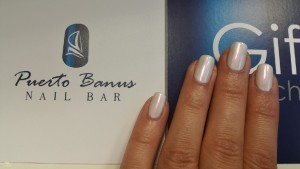 ---
The next three colours were released by OPI one week polish line – Infinite shine:
Beyond the pale pink. This colour lives up to its name, it is paler than pale pink, but it is not white either. It is very pretty.
Patience pays off  is a very similar pale pink, but it has a lavender undertone.
Pearl of wisdom is a beautiful pearly white with a slight shimmer in it. This colour would be a gorgeous choice for a bridal manicure or any other special occasion.
---
The next four colours are available as gel polishes by OPI Gelcolor :
My Vampire is buff is a creamy white
Be there in prosecco came out as a part of Fall 2015 collection. It's very similar to My Vampire is buff, but has slightly warmer, pinker undertone.
Funny Bunny is a soft white with a slight shimmer. It has a sheer finish, so if you like a full coverage, it wouldn't be a great choice for you. But if you like a natural, romantic look, than it's a colour worth trying out. (The demo below has three coats of Funny Bunny to give a stronger coverage)
Chiffon my mind  beautiful white with pink  shimmer, very nice for holiday season.
Recently OPI has released the spring 2016 collection called Hello kitty. It contains another beautiful pale pink called Let's be friends. This shade gives an innocent look, has a great coverage, so we are happy to add it to our pale pink collection. It has become one of the favourite already, especially by newly engaged clients.