Shattered glass nails – perfect for festive season!
December is finally here and we are officially allowed to talk about Christmas! It's so exciting, you can really feel it in the air – Christmas music, Christmas movies, Christmas parties and, of course, the most important – Christmas nails!
So here we are again, bringing you the newest updates and trends. The one we can't wait to share with you is, of course, Shattered glass nails! You must have come across it by now, as it's all over fashion magazines, Pinterest, Instagram and other social media. This trend was started by a talented manicurist from Korea, and spread all over Europe and other parts of the world. To be honest, when we first saw photos of shattered glass nails, we were not really mad about the idea and no image can truly justify the effect this look gives. It is amazing! The idea is so simple, but so impressive. This is a type of nail design that doesn't shout loud, but catches the eyes nevertheless. It reflects the light depending on the angle of the nails. So at first you might not even notice it, but then, suddenly – flash, followed by 'WOW'..!
Photos really don't do it justice, but we took a few of them, just to give you an idea.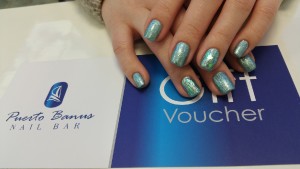 There are different ways to achieve this look. We used iridescent cellophane, which has pink-green hues. When it's placed on a light colour base, it brings out the pink, when it's used on a dark colour – green hue reflection stands out the most. But as we mentioned before, the effect is very liquid, it keeps changing and moving all the time, you just have to try it and see it for yourself!
A few tips for our fellow nail technicians or anybody who wants to try it out for themselves! For some reason, this type of cellophane sticks better to the uncured gel polish colour, rather than a gel polish top coat. The down side of it – you have to place the piece of cellophane in correct position in the first go. As the colour is not hardened, if you move the piece, it will move the polish as well. If you decide to place it on a top coat, do one nail at the time. Cellophane sticks to the gel top coat only for a few seconds, then the corners start lifting, so you have to be quick. Also don't give in into temptation to pre-cut the pieces of cellophane. You will spend more time separating them from each other than you would cutting them then and there! There are different colours of cellophane and other types of mediums used for the Shattered glass nails as well. We will try to get our hands on it and share it with you as soon as we can.
Next post – more Christmas nails ideas, so come back soon!